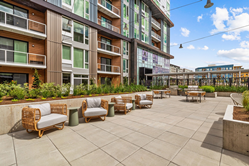 "Building to the latest in sustainable design – LEED Zero Carbon – is a big step in itself, but we also thought Verde would attract residents who want to adopt a low carbon lifestyle and put their spending power and daily choices to good use," said Mike Hubbard, Capstone Partners.

REDMOND, Wash. (PRWEB)
July 27, 2022
One of the nation's most sustainably-designed apartment properties tapping the eco-living movement, Verde at Esterra Park began welcoming new residents last month to its first-phase of 345 homes, of which 65 percent have already been leased. Information on leasing and availability are at https://verdeesterrapark.com/.
Located in Redmond adjacent to the Microsoft corporate campus, Verde is betting that a tech-savvy demographic will embrace a sustainable, net-zero lifestyle to reduce their carbon footprint and promote a circular economy.
While sustainably-designed real estate is becoming more common, what's unusual about Verde is that it is both carbon-neutral by its design, and also focuses heavily on eco-conscious choices and lifestyles by its residents — to extend green-design into green-living.
"Building to the latest in sustainable design, LEED Zero Carbon, is a big step in itself, but we also thought Verde would attract residents who want to adopt a low carbon lifestyle and put their spending power and daily choices to good use," said Mike Hubbard, Principal of Seattle- and Portland-based Capstone Partners, the development firm for Verde.
"Big corporations like our neighbor, Microsoft, are on the right track in their efforts to address global warming, and consumers want to do their part too. The average Seattleite produces nearly 19 tons of carbon emissions annually, whereas The Paris Agreement target is around 4 tons per person. That means there are significant building performance and lifestyle choices that we can model at Verde to help achieve The Paris Agreement goals," he said.
The Verde residential community, including a second-phase of 291 apartments, is the last component of the 2.8 million square foot mixed-use Esterra Park development which Capstone Partners first set in motion in 2013. When fully complete, Esterra Park will include 2,600 apartments, 245,000 square feet of office space leased to Microsoft, and a 282-room dual branded aLoft/Elements Westin hotel.
"We want to catalyze sustainability from conception to occupancy," Hubbard added. "It's not just about how we change the built environment, it's about helping facilitate a change in human behavior and consumer demand for a better planet. Multifamily buildings are an ideal platform to push the environmental boundaries because the living environment is where it all comes together."
Pursuing LEED Zero Carbon certification of the U.S. Green Building Council (USGBC), Verde is literally setting the bar at zero and, with residents doing their part, will go even lower. LEED Zero Carbon will measure the building's performance over successive 12-month periods. Verde's environmental recipe is a combination of construction choices, operational decisions, green power, and carbon off-sets. This combination will allow the building to achieve LEED Zero Carbon long before the 2030 Washington State green power mandates take effect.

A number of aspects are attracting residents to Verde.


The building design and construction were mindful of the planet, starting with the demolition of the site's prior building, a hospital, and recycling 67,000 tons of its materials. Approximately 33,000 trees, bushes, and plants were planted off-site in Redmond and Bellevue to compensate for tree removal accommodating the new construction. Recycled lumber from the site is included the ceilings, stairs, and benches of Verde.

Verde's building design also sports some of the most advanced features in housing today. One of the region's first all-electric buildings, it uses heat-pumps and other innovations to deliver natural-gas-free heating, cooling (AC), and ventilation. All water heaters, cooking equipment, washers, and driers are electric.

To capture real data and educate residents, Capstone partnered with O'Brien 360, a Pacific Northwest Company that is considered one of the vanguards of the green building movement. Energy modeling and building benchmarking will be shared with residents through digital monitors in the lobby. The goal is to educate the Verde community how our carbon footprint is created and suggest behaviors and consumer choices that can help residents reduce their own carbon footprint even further.

Recognizing that transportation represents 28% of an average person's carbon footprint, residents will be encouraged to use mass transit and carpools. In partnership with Tesla, the building has almost 5 times the number of building-code-required electric car charging stations to promote electric vehicles. There are more bike stalls than parking stalls at Verde. Residents will be encouraged to evaluate air travel impacts; either eliminating unneeded trips or purchasing carbon off-sets through apps such as Sustainable Travel International or Terra Pass.

Verde's innovative 3-acre Esterra Park greenspace provides a healthy outdoor amenity and will have regular events, concerts, and programming, plus free Wi-Fi. It's also the region's largest Privately-Owned, Public Open Space (POPOS) parks, that is, a park for everyone, provided by the development.

Verde is located adjacent to the Overlake Light Rail Station opening in 2023, enhancing its transit-first options. The station is a regional passport to not only the eastside but cities up and down the 1-5 corridor, including connections to Sea-Tac International Airport, Burlington Northern Railway at Union Station, and a five-minute walk to the Seattle waterfront and the Washington State Ferry system.

Since food represents another 14% of individual carbon footprints, Verde residents will be educated about carbon friendly and unfriendly food. A Saturday Market will bring local farm goods to Verde's doorstep and it is one of the first multi-family buildings in the region to include a "grab and go" market that is stocked with items that residents want and use, to minimize single-item trips to the grocery store.

Residents will be encouraged to reduce consumption by renting rather than buying items of everyday use such as Dyson vacuums, YETI coolers, kitchen appliances and even seasonal camping gear. Greystar, the property manager, will work with residents to ensure that useful and seasonal items are stocked in lockers that can be opened with an app and credit card.
About Capstone

Seattle- and Portland-based Capstone Partners' mission statement sums up its strategy: We build up the neighborhoods where we live, thoughtfully. Capstone executes meaningful multifamily, office, industrial, and retail developments by harnessing complex situations and face-to-face relationships with project partners and communities. Since 2002, Capstone has completed over $2.8 billion in projects and investments across diverse product types across the Pacific Northwest. For more information visit http://www.capstone-partners.com/
Share article on social media or email: