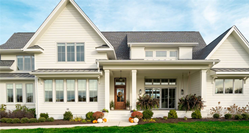 Pella's longevity and success are due to their commitment to craftsmanship and their impeccable customer service—both reasons why we're confident recommending them to our customers.

SOUTHBURY, Conn. (PRWEB)
July 13, 2022
The House Designers is thrilled to announce its newest product partnership with Pella® Windows & Doors after a careful vetting process that included favorable reviews from consumers and top-selling residential architects throughout the US and Canada. Homeowners and architects alike both agree that Pella consistently delivers beautiful, energy-efficient windows and doors that are made with high-quality materials, are energy efficient, and are promptly delivered with some of the best customer service in the industry.
"It can be challenging getting the leading residential architects from around the country to agree on what the best brand is for any home product category, but for windows, the answer was clearly Pella," said Tammy Crosby, CEO & Managing Partner of the firm. "We heard positive reviews from both consumers and builders, and some of our architects not only used Pella windows in their personal homes, but they've also had thousands of satisfied clients install them, too. Given how well these windows perform in every region and how they offer beautiful aesthetics for all architectural styles, it was easy to select Pella as our exclusive window partner."
Jerry Axelrod, an owner of The House Designers and a well-respected architect in the residential design field for over 50 years, was also involved in the decision.
"We trust Pella because of their extensive testing process. There aren't too many manufacturers of building products that started in 1925 and are still going strong today, and that speaks to their quality," Axelrod added. "Pella's longevity and success are due to their commitment to craftsmanship and their impeccable customer service—both reasons why we're confident recommending them to our customers."
The House Designers has a diverse collection of house plans that call for a full range of window types, including casement, double-hung, single-hung, awning, sliding, picture, bay, and bow windows in wood, fiberglass, and vinyl to meet the needs of customers in the United States and abroad. Pella presented itself as an ideal partner with an extensive catalog that includes everything from customizable wood windows to low-maintenance fiberglass and efficient vinyl and has been rated #1 for innovation and quality by homeowners across the country.
Pella joins The House Designers' other Supply Partners including Whirlpool Corporation, Clopay®, Therma-Tru®, VELUX®, Rheem®, Eldorado Stone, and Kebony® to help consumers and builders building new homes select and purchase products for their new home construction projects. Trusted partners are carefully selected based on products that are made with the highest attention to craftsmanship, innovation, and energy-efficiency to assist house plan customers build quality homes that stand the test of time.
"We look forward to showcasing Pella Windows on our site and in our house plans," said Crosby. "Our New Home Tours are a great way to see Pella's quality products in real homes by real customers who were very happy with the end results that Pella provided." Check out the New Home Tours of Scott & Amy, Eric & Rosemary, and Ken & Martha to see the interiors and exteriors of gorgeous homes built by satisfied homeowners who chose Pella as their trusted window provider.
About The House Designers: Established in 2001, The House Designers is a leading online house plan provider that represents the most celebrated residential architectural firms in the United States and Canada. By offering thousands of ready-to-build blueprints in more than 60 stylistic and specialty collections, they offer designs for all needs, locations, and budgets. Builders and consumers from every state in the US and in many countries around the globe have built beautiful homes using The House Designers' IRC-compliant house plans.
Share article on social media or email: